2 night stay at The Green Holiday Cottages which includes a visit to The Sea Source shop in Kilkeel where you will enjoy a personalised shopping experience with manager Michelle. You will have the chance to sample delicious local seafood, learn how to cook it and also hear how the fish has been caught.
In addition to this you will  take home a seafood hamper worth £30.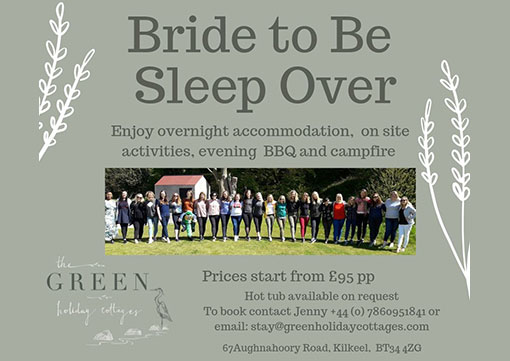 Enjoy overnight accommodation, on site activities, BBQ and evening campfire to celebrate love, life and friendship prior to The Big Day. Celebrate the up coming wedding with a sleepover with your best friends.
The Green Holiday cottages can accommodate up to 20 people in our 4 houses.
Wine tasting at KWM with Andrew and his team, develop your seafood cookery skills at Mourne Seafood Cookery School and enjoy the local cuisine at Cunningham's Bistro.
Subject to Availability
Price On Request
Walking Weekend
(with a wee treat for your tired feet!)
Walking Tour of Kilkeel from experienced blue badge tour guide Gwen, walking in the Mournes with a qualified guide and a walk through one of the local forest parks. As part of this weekend we will provide a little pampering from Essence of Beauty Salon in Kilkeel.
Subject to Availability
Price On Request
Wildlife and Conservation Weekend
Explore the paths and trails in and around the Green send a day with Mourne Heritage Trust and take a walk with a local wildlife expert in the Silent Valley.
Subject to Availability
Price On Request
Tell us about your package requirements and let us organise everything for you so you can relax and enjoy your stay!
Subject to Availability
Price On Request