October was busy! There was lots going on with half term holidays and we wanted it to be busy. We also had a number of events in The Barn which required planning and preparation which usually starts a month or two beforehand.
The month began with a gluten free baking afternoon which is always an interesting event and people travel from quite a distance to attend.
It's not only a great introduction to gluten free baking but it gives me the opportunity to talk about our accommodation and show people round the site.
The day was a bit damp but even so The Green, as always, worked its magic and delighted our guests.
We also had the chance to host Newry, Mourne and Down visitor information staff for a morning. Having the chance to show them round gives them a much better understanding of the type of accommodation we have and the variety of activities and events that The Green Holiday Cottages can host. Building these relationships is important as these informal networks are what small businesses rely on to grow.
In previous blogs I have talked about the importance of working with other people and thinking of creative ways of working together. I love this process. Undoubtedly some ventures are more successful than others but often you don't know that until you try. The old adage I rather try and fail than fail to try is very true. So when I reconnected with an old school friend, Wendy, we decided to run a pumpkin crocheting class.
Wendy is a talented crafter. When we were in primary school her pictures were far and away the most artistic. What I loved about crocheting class concept was that for some it was learning a new skill, for others it was crotcheting a new pattern and to be honest some they were just there for the craic. As you can see from the photos the pumpkins were very cute and some even crocheted a few more when they got home.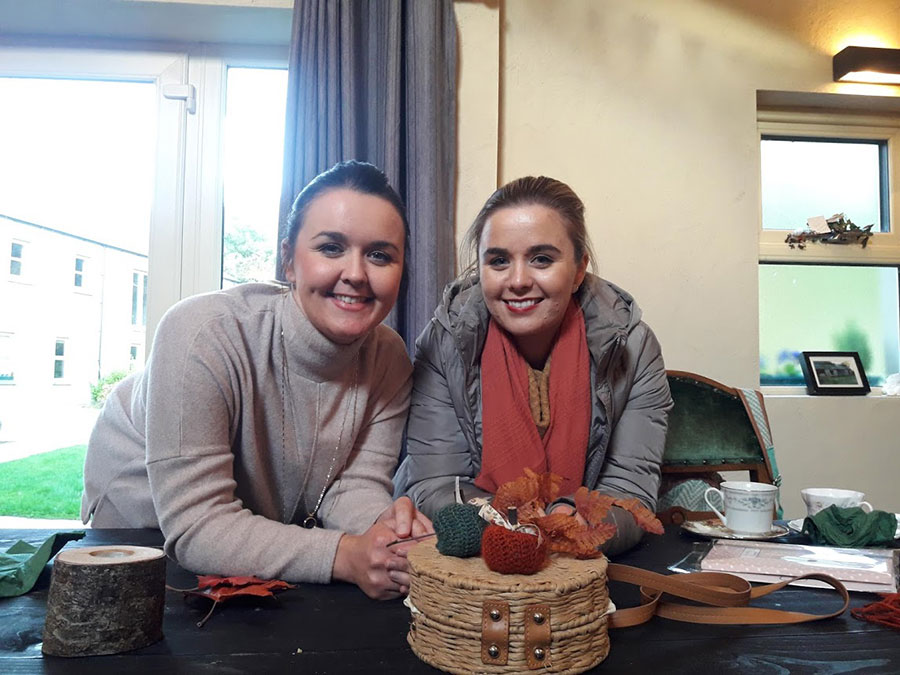 Back in August I had a visit from Tracy who is the Tourism Development Officer in Newry, Mourne and Down District Council . She had called to talk about the NI Tourism's island wide promotion which was happening from September to November. "Taste the Island" a 3 year initiative which promotes Ireland's food. After a bit of a think and a chat with my friend Lisa from Mourne Fishbox – we created a Dine and Stay experience which focused on local food and suppliers. We developed a menu based on what fish and food would be in season in mid to late of October. I advertised and was contacted by a couple who were celebrating 25 years of marriage and a 50th birthday with a group of friends. They were keen to book. It was fun to work with them to ensure that they all enjoyed their experience. Lisa and I are both firm believers in promoting what is good and positive about our local area and using local produce is one way to do that. Each course had a story of provenance linked to The Green in some way. I even developed a new recipe; Pookey Pears! Locally grown and kindly donated by our neighbours.
Half term holidays welcomed some returning guests ( I might even call them regulars!) who thoroughly enjoyed their time with us and loved the addition of the goats. We also welcomed new guests from Dublin who were thrilled with the discovery of The Mournes, The Carlingford Lough Ferry and the biking trails in Castlewellan. Fantastic to hear they thought their visit was too short and want to come back.
I started by saying it was a busy month but there was joy in the busyness! Seeing people come and enjoy what we plan, prepare or provide does give us a feeling of real happiness. We want to create a space where people feel that they have had a good time, that they have relaxed and enjoyed themselves. Everyone deserves a bit of that every so often.