1700's – The Walmsley brothers
In the mid 1700s the Walmsley brothers from Preston in Lancashire came to Ireland and settled in the Mourne area. As an industrious family they soon spotted an opportunity and so they sought and were granted leases by the Lord Kilmorey for lands along the Kilkeel river with the plan of building a series of mills to serve the needs of the farming community.
1780 – The Flax Mill
The Flax mill at The Green was probably constructed around 1780 with the Corn Mill following shortly after. For over one and a half centuries these buildings were a hub of local industry grinding corn and scutching flax.
1834 – The Mills in Mourne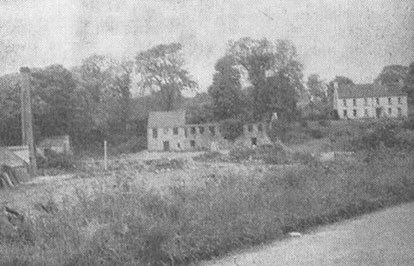 By the early 1800's the Walmsley family were well established and experienced with mills at The Green, Riverside, Ballymagart and Ballykeel.
1874 – The death of James Walmsley
James Walmsley was running the mill at The Green with his 2nd son Henry while his eldest boy Andrew owned and ran the mill at Riverside. On his death The Green passed to Henry
1889 – The marriage of Henry & Francis Alexander
Henry married on the 9th June 1889 to Frances Alexander at Groomsport Church of Ireland. He was 54. They had no children.
1937 – The Marriage of James & Edith
James Andrew Walmsley had married Edith Eason in Dublin in 1937. On Henry's death The Green passed to James Charles Walmsley the eldest son of Andrew of Riverside and from him to his eldest son James Andrew Walmsley in 1942.
1942 – James Walmsley Dies
On the 25th March 1942, James Charles Walmsley died, exactly a year and one day after his wife Margaret and 4 months after his son Lieut, Charles Henry Walmsley who was lost on active service.
1950's – The Mills In Decline
In the 1950s demand for the mills declined and so it was that a great great grandson of the Walmsleys sold The Green to a local farmer. Over the years the original buildings were used as byres, chicken houses and stores and had fallen into a poor state of repair.
1958 – The Sale of The Green
On emigrating to Canada, the Green was sold by auction on the instruction of the owner . J. A. F. Walmsley by William John Annett & Son.
1967 – Cattle Sales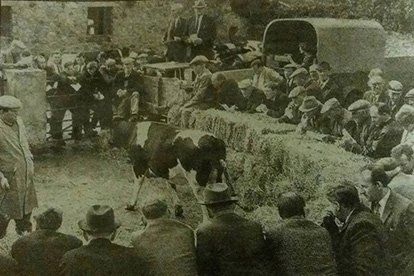 In the 1960's The Green was used frequently for the sale of cattle.
2006 – James Andrew Walmsley dies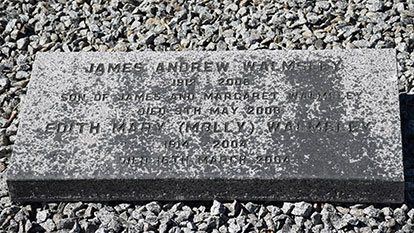 James Andrew Walmsley Headstone
2008 to present day
Brothers Timothy and Mark Hanna bought the old farm buildings in 2008 and began the restoration project
2016 – The First Visitors!
In 2016 we welcomed our first visitors to Wee Home and in 2017 we completed work on The Granary!