Every cloud has a silver lining or so the saying goes. For the past 9 weeks there have been a few clouds that is for sure, but I think there have been more than a few silver linings.
One huge positive has been that E-bikes are now legal for road use.
Let me explain my delight in this new legislation.
Last week Mark and I had the opportunity to explore the roads around Mourne courtesy of Life Adventures Castlewellan.
Seeing the mountains and coast on two wheels was a thrilling experience.
I have to say it's years since I travelled so far on a bike. I honestly felt 13 years old again.
The feeling of freedom and exploration was exhilarating.
Who doesn't shriek when they go down hills?
The E-bike, is not without effort so I did feel that I was exercising which was an added bonus and depending on gear changes I could have worked harder if I wanted. The work-out became less and less of a priority as I got higher into the mountains and my desire to cycle on greater as I realised that I could go further. There was always another road to go down, the top of a hill to reach and a view that had to be seen. Over the time that we had the bikes we explored a number of different routes but generally we just headed off.
Mark and I chatted easily as we cycled on the quiet coastal roads around Cranfield and Greencastle – this is maybe the part which reminded me of cycling as a child when you just went 'out on your bike'.
It was lovely to point to landmarks as we cycled past Greencastle Castle, the lighthouse at Cranfield and the wartime aerodrome at Dunavil.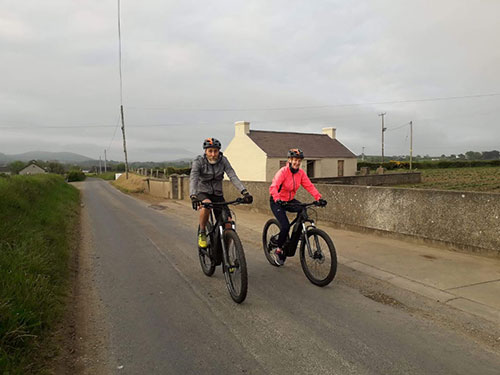 Watching the sun begin to set behind Spelga was magical as we looked down through 'Deers Meadow' towards Hilltown with the landscape silhouetted we both felt a bit stunned by the beauty around us .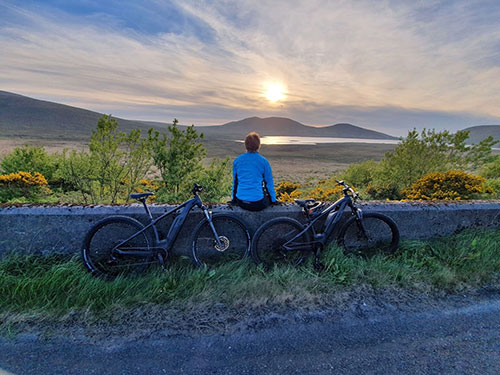 For guests who come to stay at The Green Holiday Cottages hiring an E-Bike for their stay will open up the Mournes and surrounding areas in a new way.
We anticipate this being a huge benefit to local tourism as more people start to use E-Bikes.
As lockdown restrictions are eased we look forward to working in partnership with Life Adventures and offering our guests E-bike hire as part of their package when they book a stay. Keep an eye on the website for more details.