I had decided that I would give myself a little break from blogging in January and thought that might stretch in to February but in a funny kind of way I missed it. I find writing the monthly blog a really good way to reflect on the previous few weeks work and helps to focus on what to do next. Between you and me sometimes I haven't a clue. The other reason was the number of people who read it! Its surprising the number of people who say to me "oh I read about that on your blog!"
The start of the year was hugely exciting as we hosted our first wedding. I think I was ten times more nervous for this than my own!
Mark certainly was more involved in the first "Green Wedding" than he ever was for our own wedding.
Corey and Freya came from Australia to celebrate their marriage ceremony with family and friends and it was a very happy few days.
We have a number of other weddings booked for 2020 – so we were anxious to see how things would work out. A delighted bride, groom and guests left with happy memories and gave us great reviews. We were delighted that The Green Holiday Cottages exceeded their expectations.
January and February have been quiet on the guest front – which has given us both time to get on with preparing for the season ahead. Mark has been working really hard at getting The Mill ready for the end of April.
This is a 2 storey house at the end of the cornmill complex it will sleep up to 8 people.
It will be the largest of our accommodation. The garden balcony is a stunning feature as you can sit outside, at tree top height and look down at the river and into the garden.
We are sure our guests will love this vantage point to enjoy a morning coffee or an afternoon G+T. I have done some product testing and both taste great.
Mark and I had the chance to experience the World Travel Show in Dublin as part of the Visit Mourne stand. It was a great opportunity to promote the Mourne area with lots of local attractions, places to stay and fantastic food it became quite easy to wax lyrical about spending a few days here. Speaking of tourism, NITB have launched their "Embrace a Giant Spirit Campaign". This is new brand for tourism in Northern Ireland. It has had great reviews and the television ads look fantastic with the Mourne Mountains featuring prominently. We look forward to this brand gaining momentum within the industry. .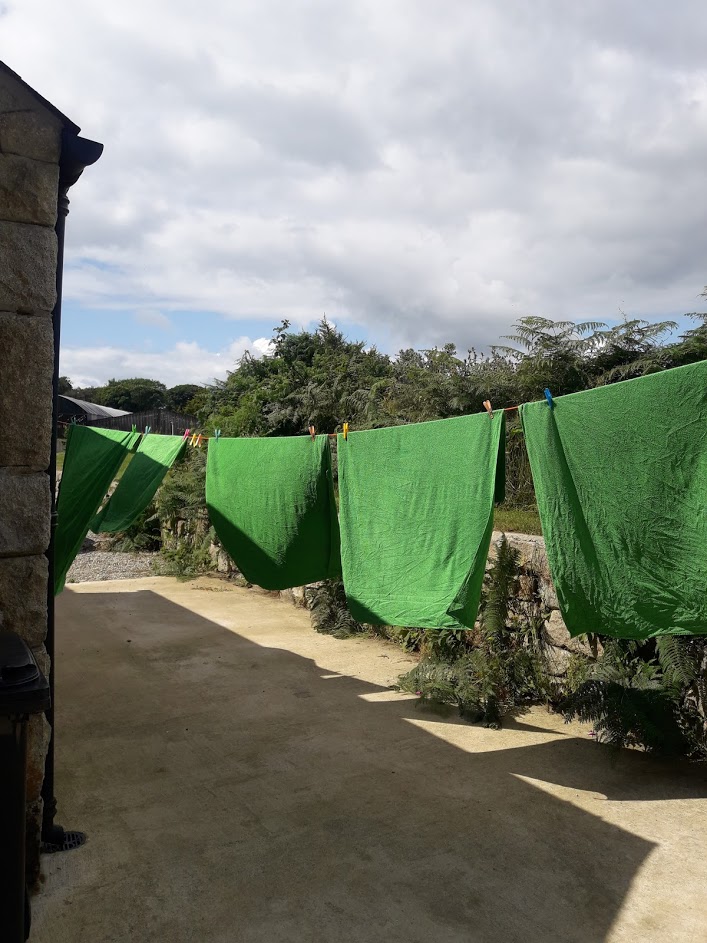 One of the reasons to write the blog was to give an honest account of what its like to run your own self catering business. In today's world social media can create an illusion that everyone's world is perfect and that everyone you meet fills you with joy.
This is not the case as many of you know. Many days the world is far from perfect, it may never stop raining, the farmers have started spreading slurry, yet again and the people you meet make you feel less than joyful. I'm no Pollyanna but I do try and find the positives in most situations (although slurry does stretch me).
I struggle to explain slurry spreading in a way that visiting tourists will find appealing, so if you have any suggestions let me know. Also because I'm a great believer in using the clothes line and not the tumble drier getting the bed linen and towels dried has turned into a bit of a game of cat and mouse.
So if you see me driving in an unorthodox manner its because I have either seen a slurry tank on the road or a caught of a whiff of "eau de lisier" in the air and am on a bed linen retrieval mission.