And we're off! 2019 is well and truly underway and after a fair amount of deliberation the Green Life blog has begun.
Roald Dahl has no love for January, in his book "My Year" he says "if I had my way I would remove January from the calendar altogether and have an extra July instead!" January is a long month that's for sure but for the first time in a long time I'm enjoying the opportunity to spend a bit of time planning the year properly. There is anticipation about what is ahead. What's in store? Who will we meet this year? Who will come to visit? Who will we be working with? So, we aren't going to agree with Roald on this occasion. Instead of wishing for longer summers appreciating the here and now is going make January a more interesting time of the year.
Planning events and activities that encourage people to come and spend time at The Holiday Cottages is a big part of running the business. There are however the practical day to day aspects, changing beds, cleaning windows and a lot of weeding. Keeping abreast of local, regional and national events is key as these are the events that can bring new people to the area. We are keen that this part of Ireland's beauty is appreciated by as wide an audience as possible and working along side other businesses and like minded people is yet another unseen part of this venture. So it's a job that has lots of moving parts and as this pretty new to us …..all the parts seem to move in different directions.
Around The Green the changing seasons are reflected daily, whether it's a new shoot or a tree that's fallen down! January can look bleak but as we have become more familiar with the variety of plant life it is becoming easier to spot changes. It might be a new clump of mushrooms starting to grow or new leaves begin to appear. Our outdoor classroom experience with local schools is a really exciting development and we look forward to welcoming more children to discover the beauty and variety of the natural world right on their doorstep. The health and wellbeing aspect of the business will be managed through Jenny's own venture GreenSpace. By using nature and the outdoor environment she will work on developing more programmes and activities that harness the "feel good" effect of being in the outdoors.
Already we have guests "welcome in" the New Year, celebrated a 60th Birthday, a Pilates and Wellness Weekend. Theses visitors have all enjoyed spending time with us and in the local area. Our hope is that these good times are passed on to friends and family in other places encouraging more people to come and discover this wonderful part of the world.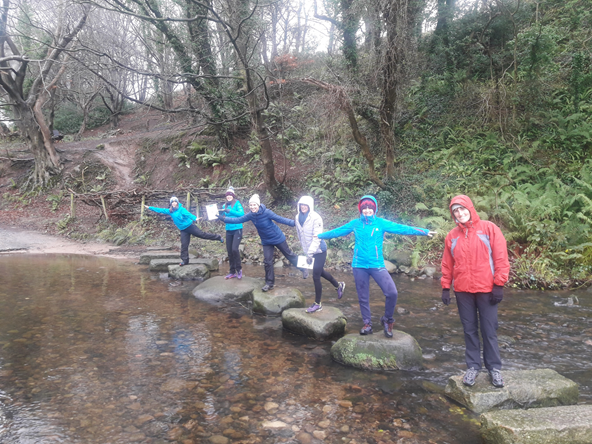 Pilates and Wellness Retreat
Rain didn't dampen our enthusiasm for getting out doors for some fresh air.